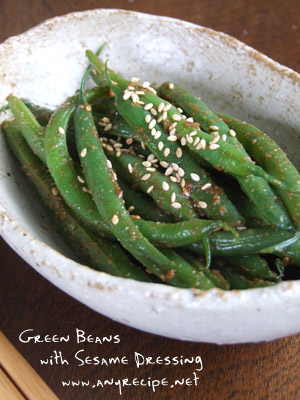 Green beans with Sesame
Ingredients:
175g (6 oz.) fresh whole green beans
a pinch of salt
For the dressing:
1 tablespoon toasted sesame seeds
1 tablespoon caster sugar or granulated sugar
2/3 tablespoon dashi stock
1/2 tablespoon miso paste
1 tablespoon soy sauce
Directions:
Cook the beans in boiling water for 2 to 4 minutes or until tender.

Toast sesame seeds and grind (or in a coffee grinder). Add the sugar, dashi, (or make instant dashi from freeze-dried granules, available in many Asian grocery stores), miso paste and soy sauce and mix together well.


Toss the green beans in the sesame dressing and serve as a side dish.
Copyright © 2008 Anyrecipe.net