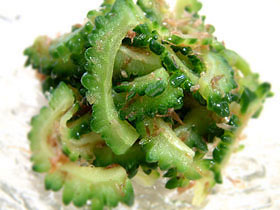 Bitter Melon Salad
Ingredients for 4
1 bitter melon ( medium size)
2 tbsp. mirin ( Japanese sweet sake for cooking, available at Safeway)
1 tbsp. light soya sauce (soya sauce with less salt)
2 bags of dry fish flakes or 10 tbsp. of dry fish flakes
Instruction
Cut in half and remove seeds:

1 bitter melon


Slice thinly. Bring water to a boil, add sliced bitter melon. Bring to a boil again and cook for 1 minute.



Drain and run cold water over the bitter melon.


Drain again. Squeeze water out as much as possible. Add and mix well.
2 tbsp. mirin ( Japanese sweet sake for cooking, available at Safeway)
1 tbsp. light soy sauce (soy sauce with less salt)
2 bags of dry fish flakes or 10 tbsp. of dry fish flakes

Chill and serve.

Copyright © 2008 Anyrecipe.net